Available patterns of Styrofoam 3D decorative panels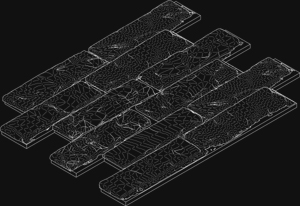 We introduce a novelty on the European market: exclusive 3D decorative panels made of expanded polystyrene (EPS) known as Styrofoam. Decorative panels imitate, inter alia, bricks and stones. Panels are designed to be fast and easy to install and fasten, and minimize workload and material consumption. The advantage of EPS panels is their small weight, large panel size and ease of forming. Brick or stone imitations available on the market are made of heavy and fragile materials such as gypsum. Transportation of gypsum products is difficult, because there is a risk of crushing. The weight and small formats of this type of product require effort, when delivered to the place of installation.
EPS decorative panels are very lightweight, do not brittle or break when dropped or with careless handling. The shape of the panels, or cutting to a specified dimension is also very simple, only a wallpaper cutter or a thermal knife is needed. Panel installation is done by applying the adhesive from the tube to the back of the polystyrene foam and gluing it to the wall. After drying, the panels should be painted with water-based paint.
POLISH PRODUCT. All patterns are reserved.
Currently, we offer more than a dozen designs of panels, the model of old brick and stone slate, which until now were only available in the form of heavy castings, is very popular.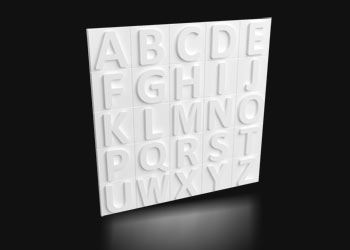 ALPHABET
The ALPHABET 3D polystyrene boards are the perfect motif in decorating kindergartens or children's rooms. The boards are painted in vivid and varied colors - that's why they fit ideally in a toddler's room. The pattern is so balanced that you can successfully decorate whole walls with it, or fragments of walls in any room.

» Read more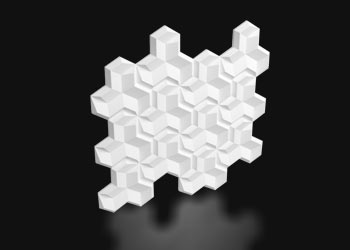 BOOMERANG
The BOOMERANG 3D polystyrene boards display a unique design which is perfect for arranging a modern interior. The boards are created for people who are not afraid of an extraordinary decor of their space and would like to emphasize its individual character.

» Read more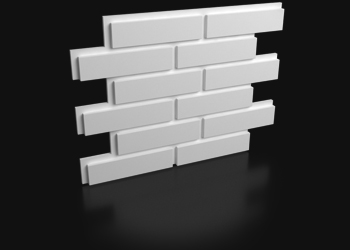 SMOOTH BRICK #2
A panel imitating a new, smooth, undamaged brick not soiled with mortar with regular and repetitive shape. There are twelve bricks on one panel measuring 24x6cm separated by grout. The shape of panels is designed in such a way that when installed, there is no gap between them to form a uniform structure over the entire surface. Panels can be painted on any colour with water-based paint. Pattern reserved.

» Read more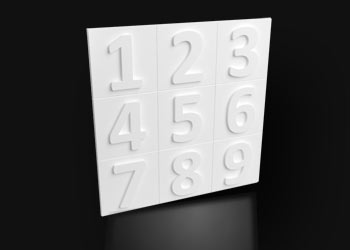 NUMBERS
The NUMBERS 3D polystyrene boards are the perfect motif in decorating kindergartens or children's rooms. The boards are painted in vivid and varied colors - that's why they fit ideally in a toddler's room. The pattern is so balanced that you can successfully decorate whole walls with it, or fragments of walls in any room.

» Read more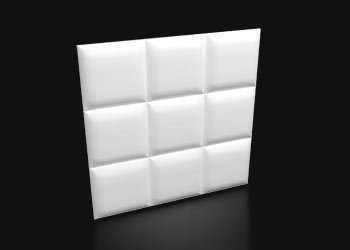 CHOCOLATE
When we think of chocolate, good memories come to mind of every and each of us - the CHOCOLATE 3D polystyrene boards work in just the same way! A synonym of happiness, they will evoke a sense of warmth and pleasure when combined with a certain type of interior. If you would like your interior to be remembered for a long time, then these boards were created just for you!

» Read more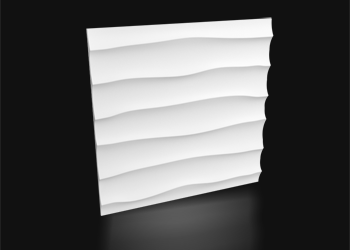 WAVES #1
WAVES #1 is a simple and harmonious model which resembles the harmony of a summer sea breeze. The corrugated structure of the panel causes the room to gain a magical and unique atmosphere, which can be additionally strengthened by giving them a specific color. The boards will cause the walls to calm the senses like a serene, whispering ocean.

» Read more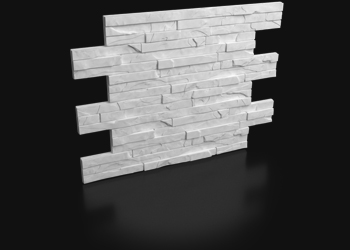 STONE #1 "MILD"
A panel imitating sandstone cut into irregular, broken and crushed stripes with soft, rounded edges. The shape of panels is designed in such a way that when installed, there is no gap between them to form a uniform structure over the entire surface. Panels can be painted on any colour with water-based paint. Pattern reserved.

» Read more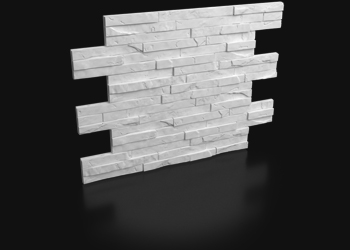 STONE #2 "SHARP"
A panel imitating sandstone cut into irregular, broken and crushed stripes with sharp edges. The shape of panels is designed in such a way that when installed, there is no gap between them to form a uniform structure over the entire surface. Panels can be painted on any colour with water-based paint. Pattern reserved.

» Read more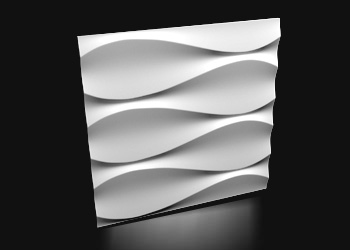 HOURGLASS
Interesting shape, smoothly passing rays creating an hourglass-like shape. The panel perfectly reflects the atmosphere of delicacy and peace in both the living room and the bedroom. By painting them in any selected colors, we will make the interior take on its own unique character that will constantly surprise us.

» Read more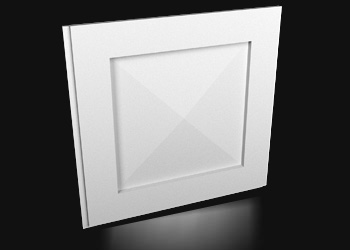 PYRAMID
A simple, smooth and wide border inside which a square-based pyramid has been inserted. The designed joints allow for equal spacing of the panels. The panel, which gives an exclusive, almost royal character to the interior, can be used on the wall and on the ceiling.

» Read more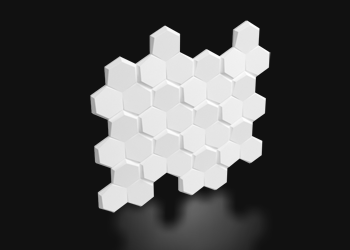 HONEYCOMB
HONEYCOMB is a motif of regular hexagons developed on the basis of perfect solutions created by nature. The application of this pattern will help to introduce an ultimate order into the room. It is an ideal proposition for those who appreciate modern and sophisticated solutions in the area of interior decoration.

» Read more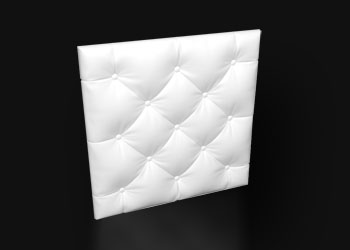 PILLOW #1
The PILLOW #1 board brings a great deal of variety onto the surface of the walls, while adding an amazing structure to it. The boards fit perfectly in the arrangement of modern rooms and bedrooms, allowing for a gentle break through the monotony by introducing an elegant character of the interior.

» Read more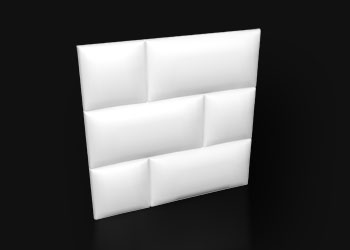 PILLOW #3
Through the use of a smoother and more subdued structure, these wall boards will make the interior cozy and warm. Ideally suited for the arrangement of small and large spaces.

» Read more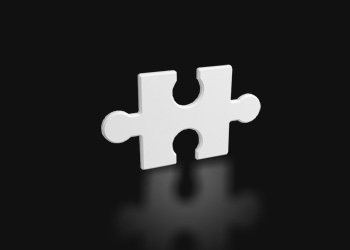 PUZZLE
The PUZZLE pattern is a great idea for decorating a children's room. Wall boards painted in vivid and varied colors will fit perfectly into a toddler's room. In turn, the monochromatic version of the puzzle will be more suitable for teenagers. It is an unusual solution that will certainly appeal to everyone, regardless of age.

» Read more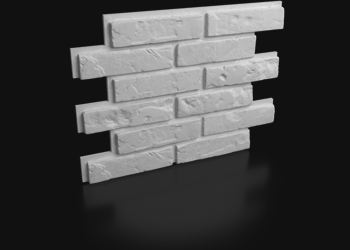 OLD BRICK #1
An old brick panel imitating a damaged brick covered with mortar. One panel contains twelve bricks separated by grout. The shape of panels is designed in such a way that when installed there is no gap between them to form a uniform structure over the entire surface. Panels can be painted on any colour with water-based paint. Pattern reserved.

» Read more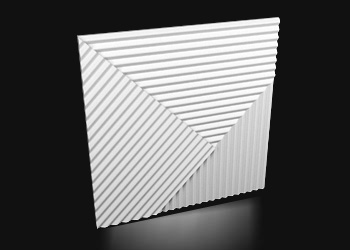 STRAWS #1
This panel is a very interesting combination of half-shafts arranged at three different angles. When mounting on the wall, you do not need to look for a pattern, adjust it to the one already placed. Any panel arrangement will give the entire wall a unique look. Two levels of thickness create a remarkable end result.

» Read more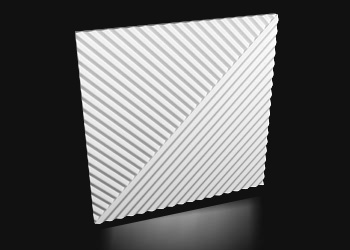 STRAWS #2
The panel, composed of half-rounds arranged at right angles to each other, forming two surfaces on one plane. The panel can be arranged without the need to find a match or arranged so that they form one harmonious pattern.

» Read more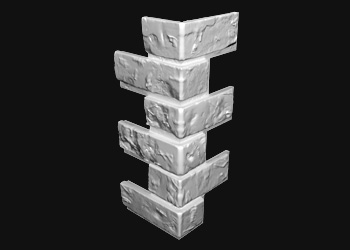 OLD BRICK - OUTSIDE CORNER
The outside corner of the old brick is a complimentary element to the OLD BRICK boards. The corner consists of two elements, which are mounted on the outer corners of the walls after assembly. The elements connect with the old brick panels, creating a uniform covering surface with the transition from one wall to the other. An inside corner is also available.

» Read more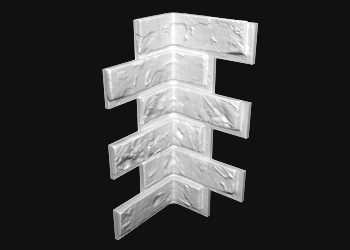 OLD BRICK - INSIDE CORNER
The inside corner of the old brick is a complimentary element to the OLD BRICK boards. The corner consists of two elements, which are mounted on the inner corners of the walls after assembly. The elements connect with the old brick panels, creating a uniform covering surface with the transition from one wall to the other. An outside corner is also available.

» Read more